News Snaps
News Snaps Jan 2016
Punta's Annual Christmas Party 2015 for the Villagers
In co-operation with Ilog Malino's Barangay Council the resort hosted it's annual Charity Christmas party. Attendance has grown each year and 700 lunchboxes and party bags were handed out. Seven cabaret acts were judged and events included live band, parlor games and raffle. Our thanks to all staff, our international team of judges and others who helped organize this year's event.
Productivity Olympics Award by Department of Labour and Employment (DOLE)
At the end of 2015 the resort received this award from DOLE in the small business category for the whole of Region 1, the most populated region of the Philippines. It is understood that the resort has now been nominated for the national award in this category. In 2010 the resorts BLSTLC school received the prestigious TESDA Kabalikat Award for Region 1 and a nomination for the national award.
ABS-CBN TV Program on Bait Fishing Feb 2016
December 2015 also saw ABS-CBN Sports and Action promote their show 'Bait Masters Philippines'. For the Bolinao/Pangasinan region the national channel featured Punta Riviera as the resort to go to. Whilst the resorts fisherman talked about his landing 60 kg of squid one weekend and also a 53kg blue marlin from our Banka on another, Aileen discussed the resorts recipes for local catches. The show will run every Saturday morning 9.30 to 10.00 am starting soon.
Lakbay Norte 5 – NPVB Media Tour January 28-30, 2016
North Philippines Visitors Bureau is an organization that aims to promote tourism in North Philippines through organized events and activities. This year's tour included a group of 20 media guided by DOT staff to experience what the North has to offer in La Union and Pangasinan. The resort had the opportunity to host their stay in Bolinao. Dr McFeat-Smith presented his lecture Model for the Future of Tourism in the Philippines to the group (see Punta's Ambiance). This incorporates elements of Permaculture in addition to The Resort Beach and Riverside Business; Environmental and Ecological Protection; Education -School for Tourism; Nutrition-Organic Farming; Good business Practice-Water, Waste and Power Management; and Community Integration.
New Facilities for Resort
El Grande Rooms
The end of 2015 saw the completion of renovation and upgrading of our two El Grande Rooms and one Tio Pepe Room for accommodation of 15 and 18 pax respectively with inside toilets, showers and adjacent cooking facilities.
New Reception Wing for Resort
Our new Reception and Accounts offices were opened just in time for the Lakbay visit in January 2016. The reception now includes an AC library quiet area, a model soldier exhibition room, PWD/toilets, new indoors bar/restaurant and large reception waiting room with, of course, our new modern reception facility. This is accessed direct from the Bolinao Patar Road (as opposed to the Barangay road) via our new Grand Entrance and Carpark.
At first floor level of the wing, five new La Marea Rooms, two staff rooms, and one suite room are nearing completion to be opened in time for Easter weekend 2016.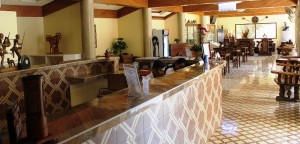 Scottish Regiment in Square Formation during American War of Independence.
Contract for Solar Energy Generation
In line with our Permaculture Model (see Punta's Ambiance), a new construction contract was let in January 2016 for supply of a German System including solar panels and high tech batteries for generation of 25KW of clean electrical energy, covering about 33% of the resorts annual needs. This will be installed in only one month for provision of power above our New Reception Wing and adjacent accommodation buildings. It will ensure that this section of the resort is free from brownouts and the need for power from our back up generators. It is intended that the system will be extended progressively to provide power for all of the resort.
Resort Policy Regarding REVIEWS AND Travel Blogs
The resort encourages feedback on its performance and guests experiences. A feedback book is provided at Reception and guests are free to read about other traveler's experiences. All of these are read, summarized periodically and acted upon after consideration by the owners as 'hands on managers' of the resort. Our Operations Manager is available 24/7 on site. E-mails to us are also welcome, preferably soon after departure as long as these identify the check-in guest name, room number and date of stay.
The publication of feedback in social media such as our Facebook and in blogs are also welcome, however anonymous responses are treated with some caution as we cannot be certain that these emanate from bona fide guests. As a matter of policy, we refuse to respond to any complaints in travel blogs.
Updated February 2016