Wedding Packages
Located between Bolinao and Patar on Western Pangasinan's famous Sunshine Coast Punta Riviera Resort offers unparalleled BEACH & GARDEN WEDDINGS and RECEPTIONS. Bride and entourage make unique entrances across our decorated bridge over the River Ilog Malino to our Westward facing white sand island for a truly spectacular, meaningful sunset Wedding. Catholic Weddings can be arranged at Bolinao's famous 400 year old St James Fortress Church.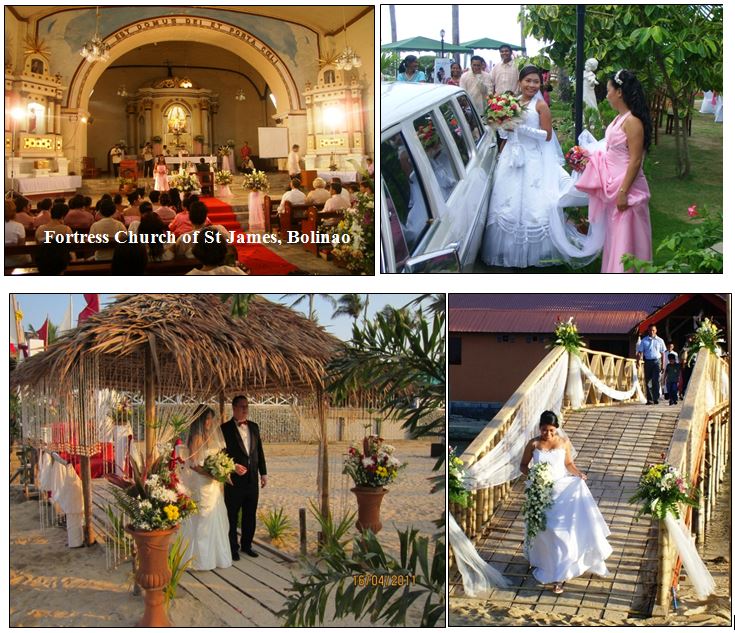 Our Wedding Coordination Team, Elvie, Anjo, Benjie and their assistants will attend to all your personal requirements, the needs of your guests and ensure that your wedding day runs as planned. We will ensure that this will be most memorable day of your life.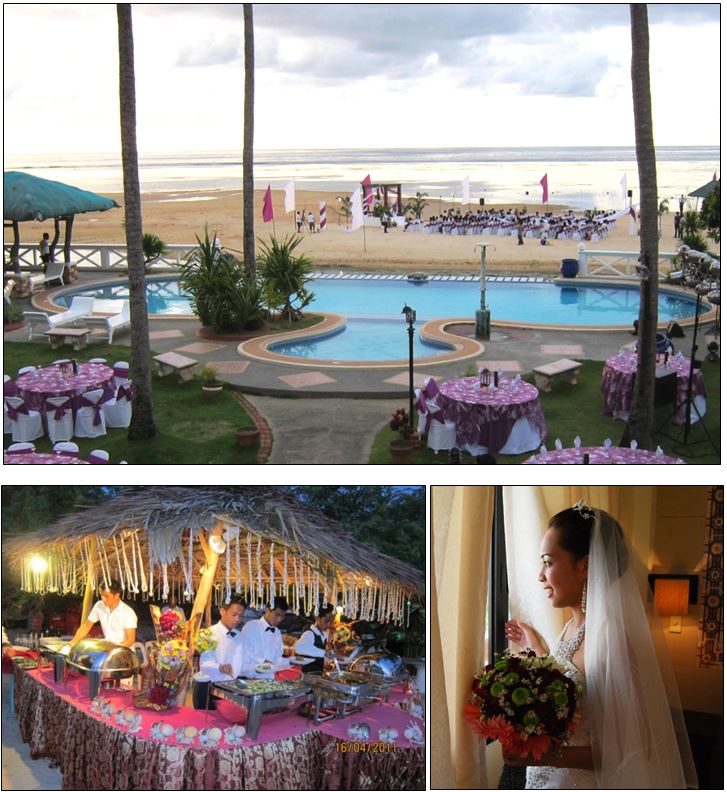 We have 4 packages for your choice. Please click tabs below to view package details.
Diamond Package @ Php 368, 000.00
Wedding Inclusions:
Honeymoon Suite Room for Couple for Two (2) nights

Romantic Special Dinner

Whole body relaxing massage for the couple

A bottle of Sparkling wine for Bridal toasting

A (3) three layers fondant cake (white)

A pair of dove

Half body mannequin for wedding gown

Officiating Minister

Fireworks display

Full live band or acoustic band

Overnight Accommodation for 50 guests

2 El Grande rooms

5 La Marea rooms

Hair and Make-up

Hair Styling and traditional make-up for the Bride

Traditional make-up for 2 mothers

Maid of honour

Bridesmaid and the flower girls
Ceremony Set-up at the Beach:
Symbolic wedding ceremony

Wedding ceremony venue at the beach (recommended – Sunset beach Wedding)

Ceremony Sound system

Bridal Bouquet

Flower corsage for Entourage (VIPs, bridesmaid, groomsmen, flower girls)
Reception Set-up at the Garden:
Special Buffet settings for foods

Overflowing Iced tea Fountain

Presidential settings

Bridal backdrop

Tables and tiffany chairs with appropriate draperies with motifs

Floral centrepiece

Sound system and lights

LCD Projector and Widescreen

Wedding tarpaulin (photo to be provided by guest)

Master's of Ceremony (Emcee)
Professional Photography and Videography Inclusions:
Wedding with Save-the-date Video material

2 Professional Photographers

To Use High Resolution Digital SLR Camera

To Shoot And Record Unlimited Digital Images

Standard Multi-Layered Graphic Layout

40 Pages 8 X 10 Leather Album With Box

Scratch Proof Laminated Prints

12 x 15 Blow up with Frame Portrait

2 Professional Videographers

To use DSLR Video System

Nonlinear Editing System with multilayered Graphics and Effects, Musical Scoring

Final Output in DVD Format (35 to 45 mins.)

SDE & AVP Video Production

Pre nuptial & Same Day Edit Video AVP

With LCD Projector and Widescreen

With Aerial Videography
Gold Package @ Php 329, 500.00
Wedding Inclusions:
Honeymoon Suite Room for Couple for Two (2) nights

Romantic Special Dinner

Whole body relaxing massage for the couple

A bottle of Sparkling wine for Bridal toasting

A (3) three layers fondant cake (white)

A pair of dove

Half body mannequin for wedding gown

Officiating Minister

Fireworks display

Acoustic band

Overnight Accommodation for 30 guests

Hair and Make-up

Hair Styling and traditional make-up for the Bride

Traditional make-up for 2 mothers

Maid of honour

Bridesmaid and the flower girls
Ceremony Set-up at the Beach:
Symbolic wedding ceremony

Wedding ceremony venue at the beach (recommended – Sunset beach Wedding)

Ceremony Sound system

Bridal Bouquet

Flower corsage for Entourage (VIPs, bridesmaid, groomsmen, flower girls)
Reception Set-up at the Garden:
Special Buffet settings for foods

Overflowing Iced tea Fountain

Presidential settings

Bridal backdrop

Tables and tiffany chairs with appropriate draperies with motifs

Floral centrepiece

Sound system and lights

LCD Projector and Widescreen

Wedding tarpaulin (photo to be provided by guest)

Master's of Ceremony (Emcee)
Professional Photography and Videography Inclusions:
Wedding with SDE

1 Professional Photographer

To Use High Resolution Digital SLR Camera

To Shoot And Record Unlimited Digital Images

Standard Multi-Layered Graphic Layout

40 Pages 8 X 10 Leather Album With Box

Scratch Proof Laminated Prints

12 x 15 Blow up with Frame Portrait

2 Professional Videographers

1 main cam and 1 highlight cam

To use DSLR Video System

Nonlinear Editing System with multilayered Graphics and Effects, Musical Scoring

Final Output in DVD Format (35 to 45 mins.)

SDE Video Production

Same Day Edit Video AVP

With LCD Projector and Widescreen

With Aerial Videography
Silver Package @ Php 264, 500.00
Wedding Inclusions:
Honeymoon Suite Room for Couple for Two (2) nights

Romantic Special Dinner

Whole body relaxing massage for the couple

A bottle of Sparkling wine for Bridal toasting

A (2) two layers fondant cake (white)

A pair of dove

Half body mannequin for wedding gown

Officiating Minister

Fireworks display

Acoustic band

Hair and Make-up

Hair Styling and traditional make-up for the Bride

Traditional make-up for 2 mothers

Maid of honour

Bridesmaid and the flower girls
Ceremony Set-up at the Beach:
Symbolic wedding ceremony

Wedding ceremony venue at the beach (recommended – Sunset beach Wedding)

Ceremony Sound system

Bridal Bouquet

Flower corsage for Entourage (VIPs, bridesmaid, groomsmen, flower girls)
Reception Set-up at the Garden:
Special Buffet settings for foods

Overflowing Iced tea Fountain

Presidential settings

Bridal backdrop

Tables and chairs with appropriate draperies with motifs

Floral centrepiece

Sound system and lights

LCD Projector and Widescreen

Wedding tarpaulin (photo to be provided by guest)

Master's of Ceremony (Emcee)
Professional Photography and Videography Inclusions:
Wedding with PRENUP

1 Professional Photographer

To Use High Resolution Digital SLR Camera

To Shoot And Record Unlimited Digital Images

Standard Multi-Layered Graphic Layout

40 Pages 8 X 10 Leather Album With Box

12 x 15 Blow up with Frame Portrait

1 Professional Videographer

To use DSLR Video System

Use of Steady cam or Slider System

Nonlinear Editing System, MTV Style

Final Output in DVD Format (35 to 45 mins.)

AVP with Video Production (with Aerial Shoot)

Pre nuptial Video Shoot (w/in Tarlac City only)

MTV Style Editing / Themed AVP

With LCD Projector and Widescreen
Bronze Package @ Php 216, 500.00
Wedding Inclusions:
Honeymoon Suite Room for Couple for One (1) night

Romantic Special Dinner

Whole body relaxing massage for the couple

A bottle of Sparkling wine for Bridal toasting

A (2) two layers fondant cake (white)

A pair of dove

Half body mannequin for wedding gown

Officiating Minister

Hair and Make-up

Hair Styling and traditional make-up for the Bride

Traditional make-up for 2 mothers

Maid of honour

Bridesmaid and the flower girls
Ceremony Set-up at the Beach:
Symbolic wedding ceremony

Wedding ceremony venue at the beach (recommended – Sunset beach Wedding)

Ceremony Sound system

Bridal Bouquet

Flower corsage for Entourage (VIPs, bridesmaid, groomsmen, flower girls)
Reception Set-up at the Garden:
Special Buffet settings for foods

Overflowing Iced tea Fountain

Presidential settings

Bridal backdrop

Tables and chairs with appropriate draperies with motifs

Floral centrepiece

Sound system and lights

LCD Projector and Widescreen

Wedding tarpaulin (photo to be provided by guest)
Professional Photography and Videography Inclusions:
Wedding with PRENUP

1 Professional Photographer

To Use High Resolution Digital SLR Camera

To Shoot And Record Unlimited Digital Images

Standard Multi-Layered Graphic Layout

40 Pages 8 X 10 Leather Album With Box

12 x 15 Blow up with Frame Portrait

1 Professional Videographer

To use one DSLR Video System

Nonlinear Editing System, MTV Style

Final Output in DVD Format (35 to 45 mins.)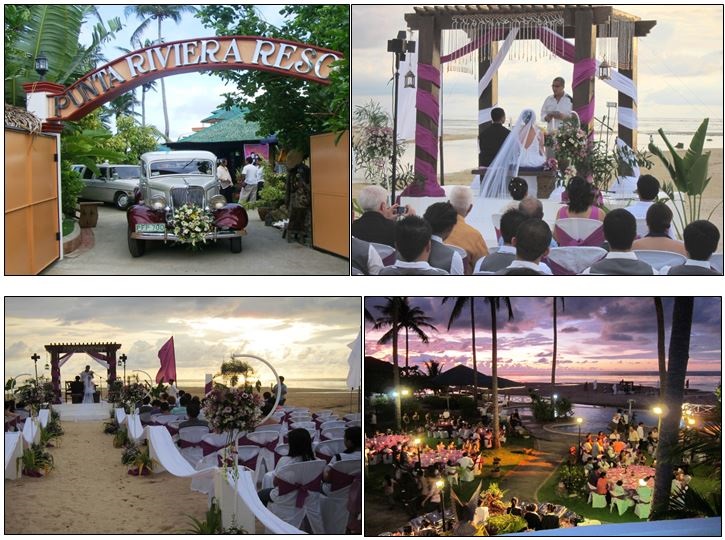 Honeymoon Suite