A Permaculture Model for the Future of Tourism in the Philippines
Punta's Permaculture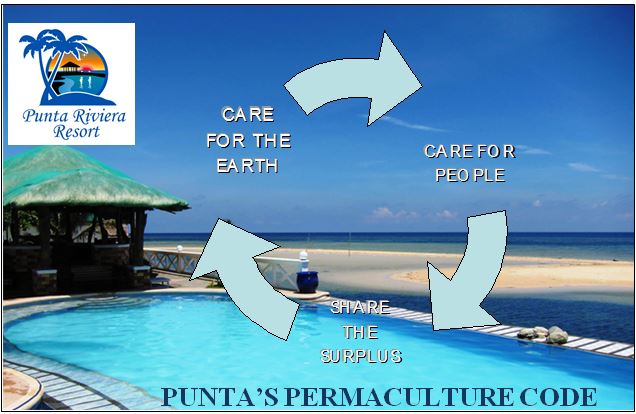 In addition to preservation of the local environment and ecology (see mangrove replanting below),  Punta is managing its own sustainable free range farm; will soon build a permaculture building to house its herd of indigenous wild boars; a tourist lookout tower; filtering facility for well and river water; mixing of EMI organic fertilizer; organic education tower ;and generation of solar electricity for our future organic farm.
Our Permaculture Model for the Future of Tourism in the Philippines
We're not there yet – but we know where we're going, why we're going there and how to get there!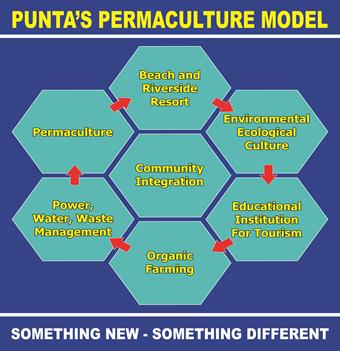 Care for the Earth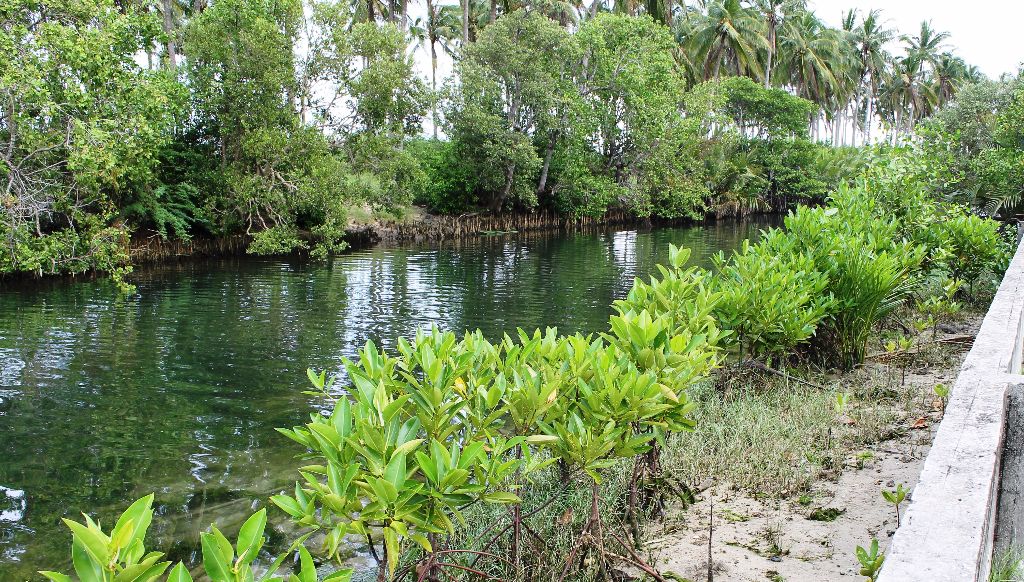 Pangasinan's Largest Aquaponic's System

When fully commissioned our 400 fish aquaponics system will provide freshwater fish and market garden vegetables for the resort from gravel and water plant beds. Solar power generation for the pumping system will come from the Permaculture Tower.

Dragon Fruit Farming: Cactus Plants Watered by Well Water
Punta's Free Range Farm with Organic Fertilizers
Punta's fertilizers include vermiculite, carbonized rice hal and decomposed seaweed from our seafront with decomposted waste food from the resort.  EMI, (effective micro-organism) is mixed with various fertilizers to ensure growth of healthy micro- organisms.
Energy, Water and Waste Management
Environmental systems to reduce energy consumption:
Low energy and solar bulbs are already in place in the resorts public places.
Energy Saving Rooms. Our Tio Pepe, El Grande and Tia Maria rooms, used to house up to 20 persons, consume about 80% less  energy/person than is required for small sized rooms.
Natural Lighting: The resort main public areas and restaurants are all located as open plan features making excellent use of natural lighting. All corridors and access stairs are built externally, avoiding the need for lighting dark passageways as needed for multiple level hotels.
Towel and linen policy. A policy giving guest choice to reduce energy consumption is in place.
Solar Heating for Shower Water. In order to reduce energy demand significantly twin 300 litre solar water heating units with appropriate insulated piping was introduced on the resorts latest three buildings.
Solar energy. A pilot system shall soon be built in our future Permaculture Tower for our aquaponics system and organic farm.
Back up power generation is provided from the resorts powerhouse by two diesel generators.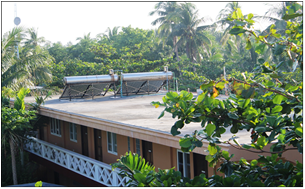 Solar Heating Units
Environmental systems to reduce water useage.
Well water has been in use in the village since ancient times and both supply and quality has proved historically to be adequate, being used for the toilets, showers, gardens and livestock in the resort's free range farm. Plants and trees are watered with well water in the mornings and evenings only.
Mains Water Supply became available in 2014.
Garden and Plant Watering. Extensive use of local plants and foliage has been achieved on site with preservation of the original 100 year old coconut trees, umbrella trees, canderoma, mangroves, mango, papaya, and other fruit trees and plants. Preservation and replanting of indigenous mangroves has been carried out along the river side. Systematic harvesting is evident throughout the resort including the seafront island and free range (future organic) farming areas.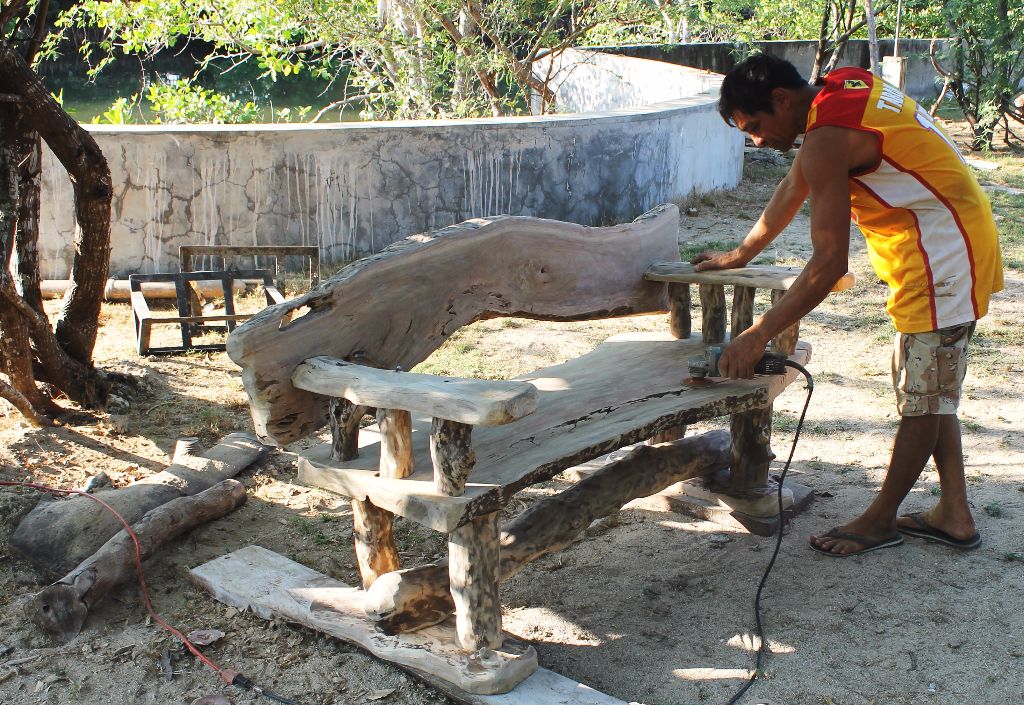 Manufacturing Hardwood Furniture at Punta
Purple Dragon Fruit. Our dragon fruit orchard (from cactus) significantly reduces watering requirements.
River water is tidal and brackish but salty. At the location of our proposed Permaculture Tower and draw-off point of river water, which is located 300m upstream from our estuary, the river water will be filtered and mixed with EM1 (effective micro-organism) and other fertilizers as required in accordance with training received by the resorts staff at the Costales Organic Farm in Lagoona, and then tested at difference tidal conditions for use on the free range (future organic) farm.
Duel toilet flushing. In order to reduce flushing water usage toilets are fitted with duel flushing.
Towel and linen policy. A policy giving guest choice to help reduce water usage is in place.
Environmental systems to reduce waste.
Public Places inside Resort: Guests are now separating solid biodegradable and non- biodegradable waste using coloured bins installed in our gardens and Public Places.
Kitchen, Restaurants: Some food waste is being fed to livestock in our free range farm. This includes a herd of 50 indigenous wild boars. We have targeted 100% recycling of all food waste for the year 2015.
Kitchen: Decomposing of bio-degradable kitchen and food waste using carbonized rice hal/bokashi/EM1  healthy micro-organisms will commence in the second quarter of 2015 and will be used on the farm.
Main Waste Collection Bins: Separation of non- biodegradable waste at main collection area into glass, metal, plastic and other materials e.g paper/ wrappings. This includes re-use of plastic container bottles for gardening e.g. for dragon fruit and other plant cuttings. It will also include re-use of larger plastic containers for decomposing barrels for kitchen waste.
Restaurants, Bars: Recycling of all glass bottles and cans to manufacturers is being carried out.
The resort's policy is to reduce its frequency of replacement of furniture and appliances by purchase of more robust appliances, furniture eg hard wood chairs and tables. The resort purchases stocks of old hard wood and manufactures furniture on site.
Care for People
Integration with Village  Community – Christmas Cabaret Parties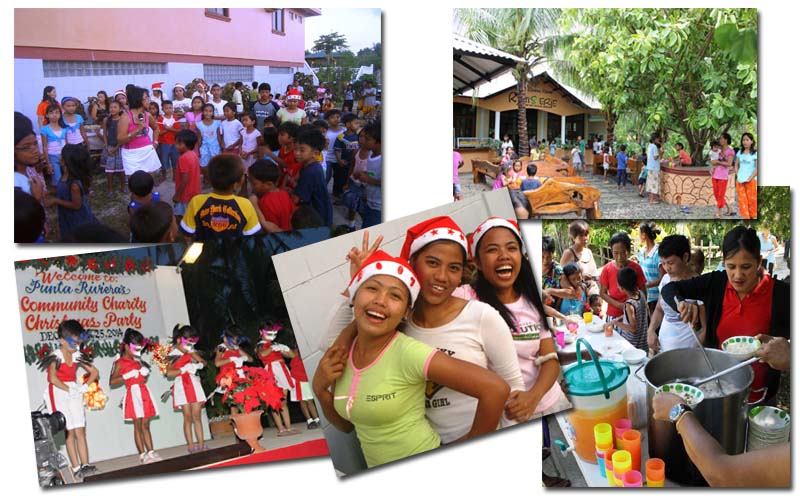 Sharing the Surplus
Punta has an expansive programme of outreach and integration with its Local Community. This includes Christmas Parties and weekly charity feeding, employment of primarily local staff, use of local goods and materials, support of all local events and Festivals and use of the BLSTLC school foundation for educating local graduates to find employment either in the Bolinao area or to travel overseas. In 2010 the resort received the prestigious TESTA Kabalikat Award for Region 1 and the nomination for the national award.